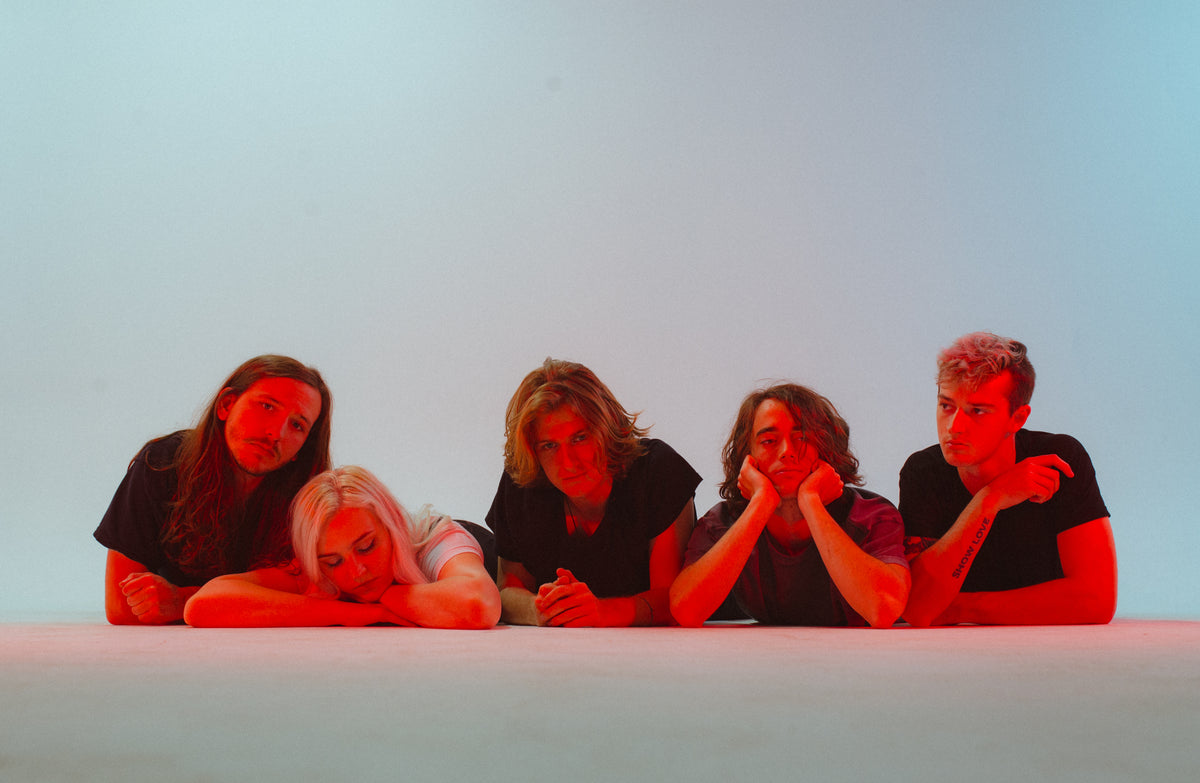 ABOUT
BIO
---
flipturn makes indie music for endless summers, sun-streaked days, and introspective nights. It's a cinematic sound rooted not only in the Florida towns where the musicians first banded together as teenagers, but also in the anthemic live show that's taken flipturn from coast to coast. 
Shadowglow, flipturn's debut album, distills the energy of those live shows into 14 tracks. Stacked high with indie-rock hooks and shimmering soundscapes, it's a snapshot of a band caught halfway between youthful optimism and adult precision, with songs that target the head as well as the heart. This is otherworldly music with a human core, delivered by five fiercely impassioned musicians who've been cutting their teeth since high school.
Years before they recorded Shadowglow with producer Jon Gilbert (Mt. Joy, Adam Melchor), flipturn came together in Fernandina Beach, Florida. Frontman Dillon Basse, bassist Madeline Jarman, and lead guitarist Tristan Duncan held their earliest rehearsals in Madeline's garage, meeting up after class to write the coming-of-age anthems that quickly made flipturn a must-see live band across the state of Florida. They were inspired by the gritty stomp of 2010s indie rock and the grand sweep of classic film scores, and they poured both influences into their own sound. Over the years that followed, the band released a handful of independent EPs, watched singles like "August" and "Chicago'' become passionately adored standards both online and at shows, and expanded their lineup to include guitarist/synth player Mitch Fountain and drummer Devon VonBalson. 
flipturn's roster wasn't the only thing to expand. As the bandmates became genuine road warriors, they watched their nightly crowds get bigger, too. This was organic growth — not the result of a record label's big-budget marketing push, but the natural result of consistent touring and fervent word-of-mouth recommendations from their own audience. 
"We weren't on any Spotify editorial playlists," Dillon remembers. "People just discovered us on their own. They'd hear about our shows, they'd check us out, and they'd keep coming back. Our live show is the reason we've been able to grow."
"When we're onstage together, we go crazy," adds Madeline. "We're friends who are experiencing this moment together. We feed off one another's energy, and the audience sees that and feeds off it, too. We're all building something together."
Progressing into their independent career, flipturn began headlining their own shows across the country, touring with acts like Rainbow Kitten Surprise, Mt. Joy and Wilderado along the way. After amassing over 50 million streams on Spotify alone, they soon graduated to the festival circuit, where they signed their first record deal with Dualtone right before playing a triumphant set at Bonnaroo. That upward momentum is felt throughout Shadowglow, from opening track "The Fall" — where taut tangles of interwoven guitar give way to Dillon's larger-than-life, vibrato-laced vocals — to the atmospheric slow burn of the album's closer, "Orbit." There's a world of eclecticism between those two bookends, too. "Whales" finds Dillon singing about anxiety over a maritime mix of sonar-sounding electronics and ocean-roar percussion, while tracks like "Sad Disco" find room for deep-seated grooves.  On "Playground," the band's guitarists trace circles around one another in a game of harmonized hopscotch, ultimately coming together for a full-throttle outro that splits the difference between shoegaze, psychedelia, and anthemic rock & roll. The result is an album for rock clubs, dance floors, and festival crowds — an album fit for headphones, but best enjoyed in the company of others. 
flipturn are proud of the community they've built. Shadowglow celebrates those bonds, but it also shines a light on the challenges that face modern-day 20 somethings. "We're writing about problems that this generation has — problems that other generations maybe didn't face," says Dillon, who sings about the human condition in a voice that's elated one minute and weary the next. From condemnations of the Internet to pep talks concerning anxiety and climate change, Shadowglow finds commonality in the individual battles we all wage, creating a vivid soundtrack for moments that can often seem overcast. 
"We've all grown as musicians since we started the band in high school," says Madeline, "but this album explores the process of figuring ourselves out as people, too. It's about balance. It explores the light and the dark." 
With Shadowglow, flipturn graduates from seeking warmth in the rain, to finding how to let the extremes in life coexist.